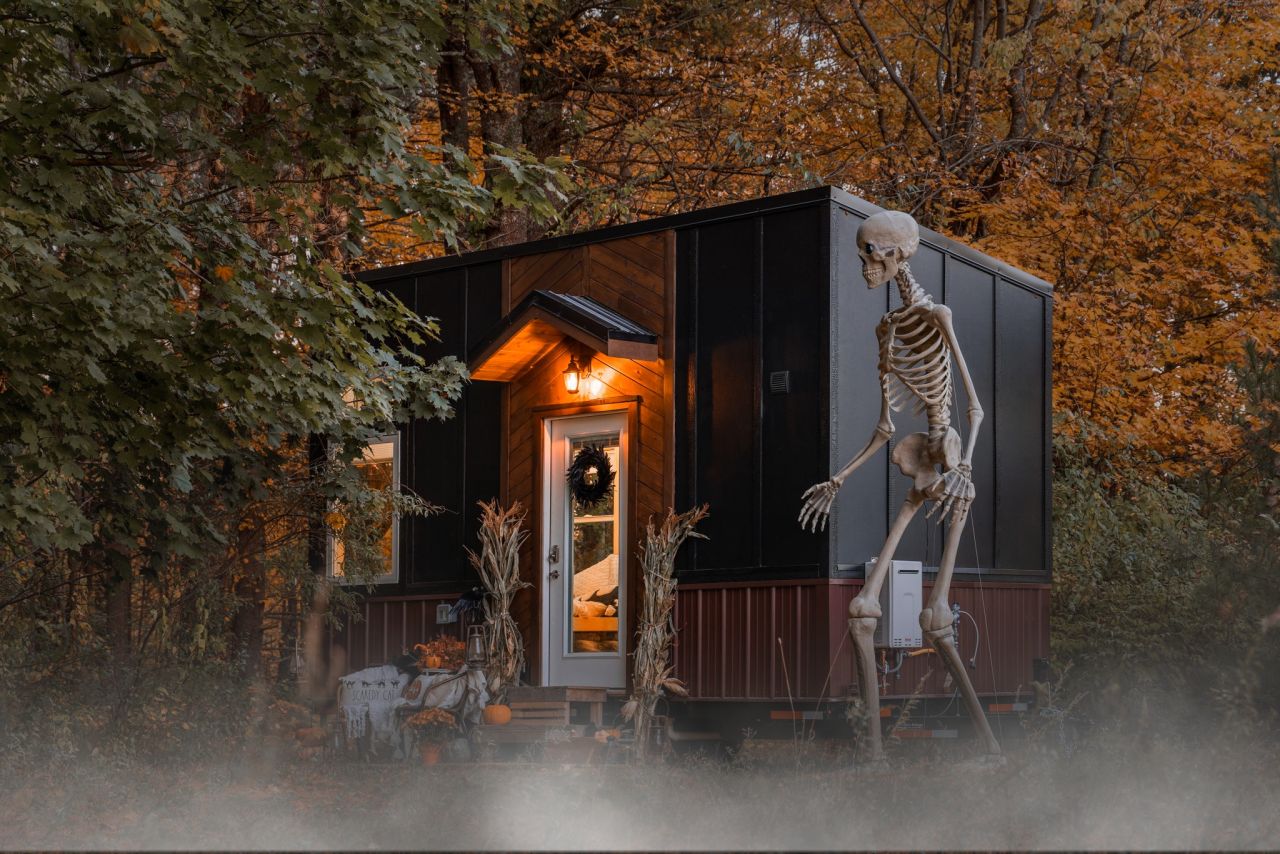 Tiny houses are typically regarded as stylish and classy dwellings that provide the user with comfort and coziness. Backcountry Tiny Homes, a tiny home manufacturer headquartered in New Hampshire, sought to reverse this perception and created a tiny house that transforms your mini habitation into a terrifying domicile on wheels. The 18-foot Halloween-themed tiny house, dubbed 'The Spooky Home,' is intended for rental.
The spookily charming tiny house, finished in metal accents, features a detachable awning that gives shelter from the blistering heat, while the small porch area with pumpkins and artificial crows adds an unsettling vibe to the residence. While the tiny house outside evokes the Halloween atmosphere like no other, the interior of 'The Spooky Home' embraces the theme wholeheartedly.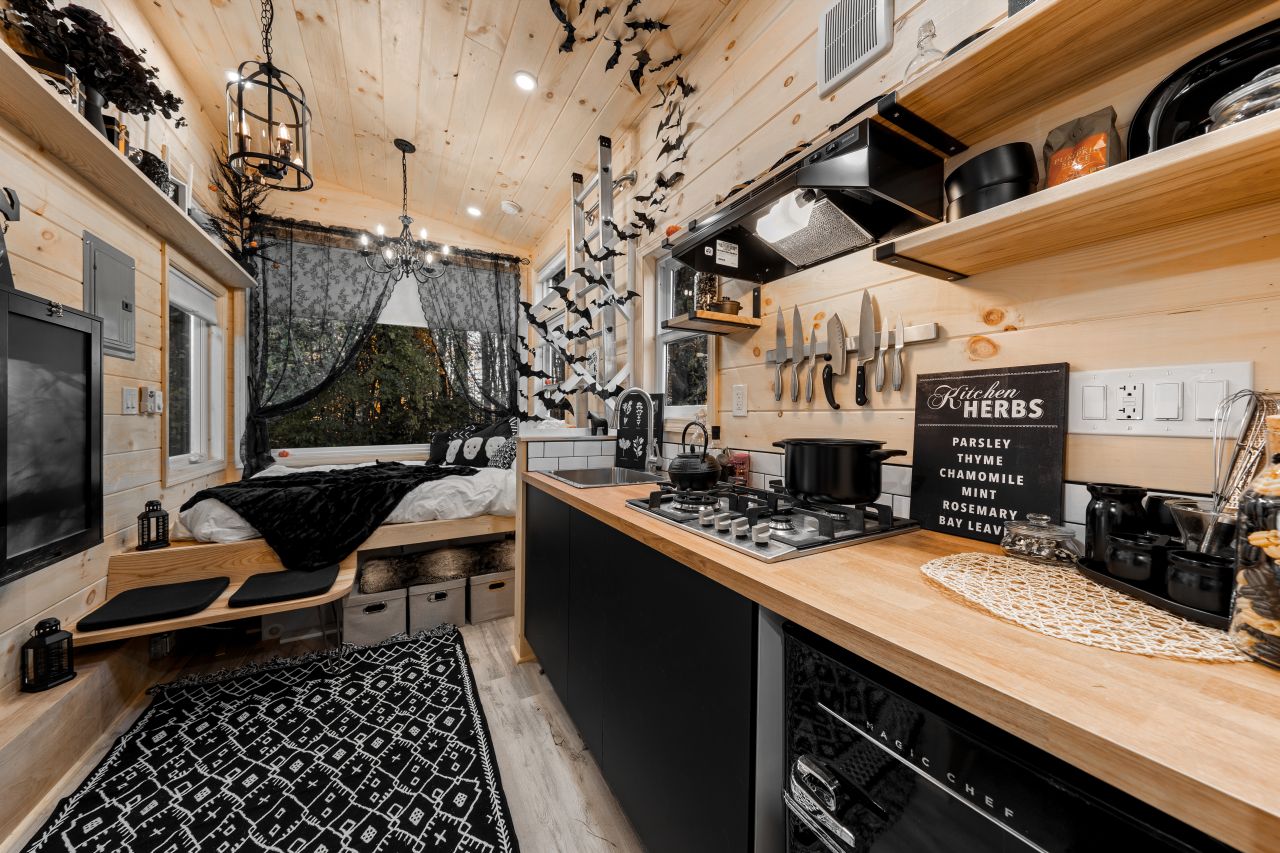 The interior is utilitarian yet frightening, thanks to the small details added by Backcountry Tiny Homes to the dwelling. It has a first-floor sleeping area, kitchen, bathroom, and storage loft, as well as several windows to enjoy the view. The tiny house includes spine-tingling elements such as a 12-foot skeleton greeting you at the entryway, unleashing spooky enchantments.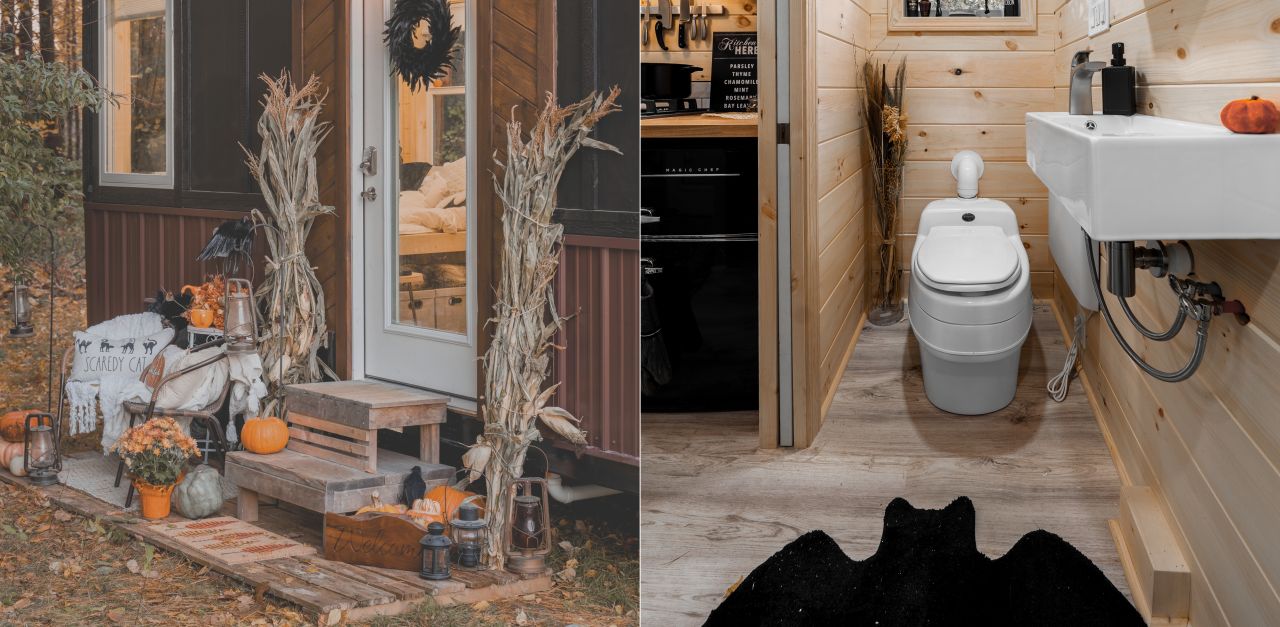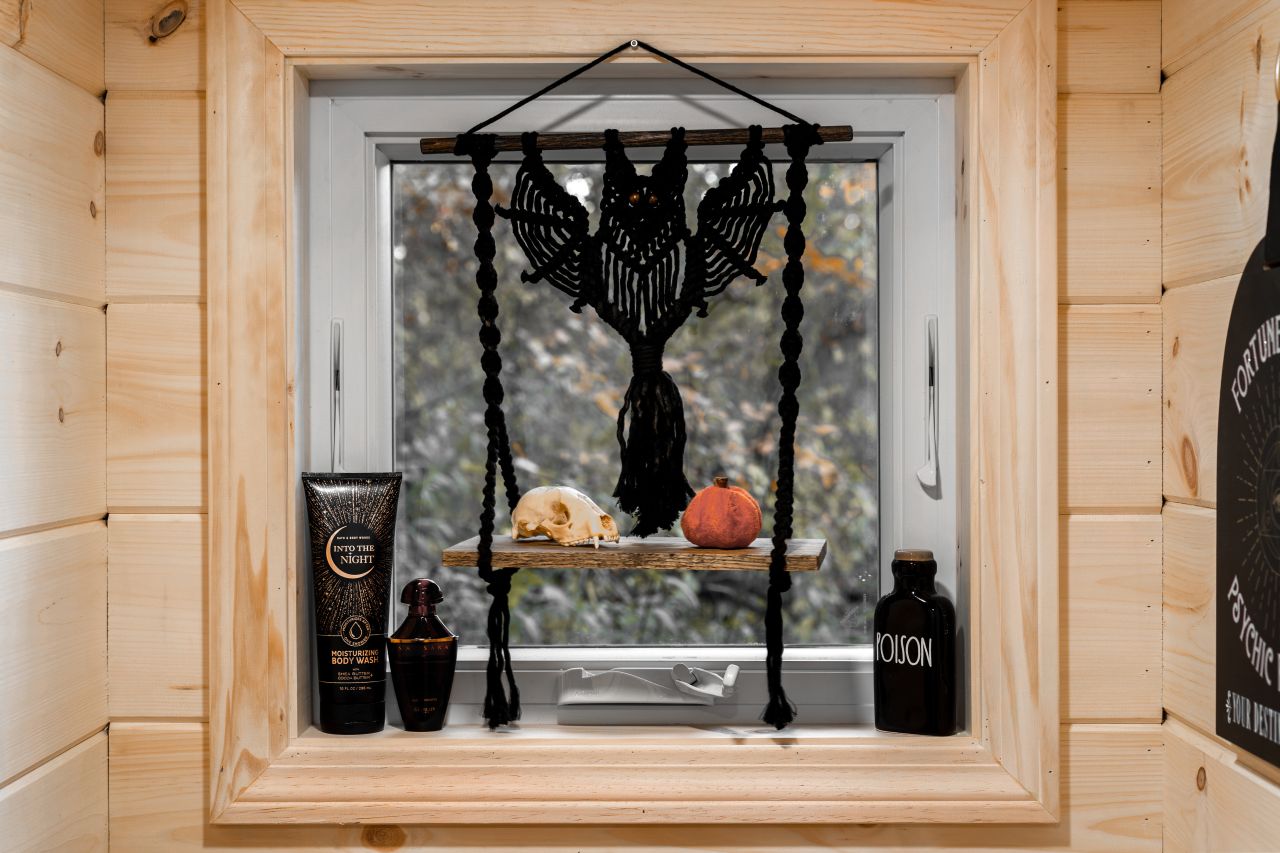 The kitchen is the first thing you see as you enter the spooky mansion. The kitchen is equipped with everything needed for a comfortable stay, including a countertop, cabinets, sink, shelves, and a four-burner gas cooktop. The kitchen walls are adorned with bat cutouts that go in nicely with the black cutlery.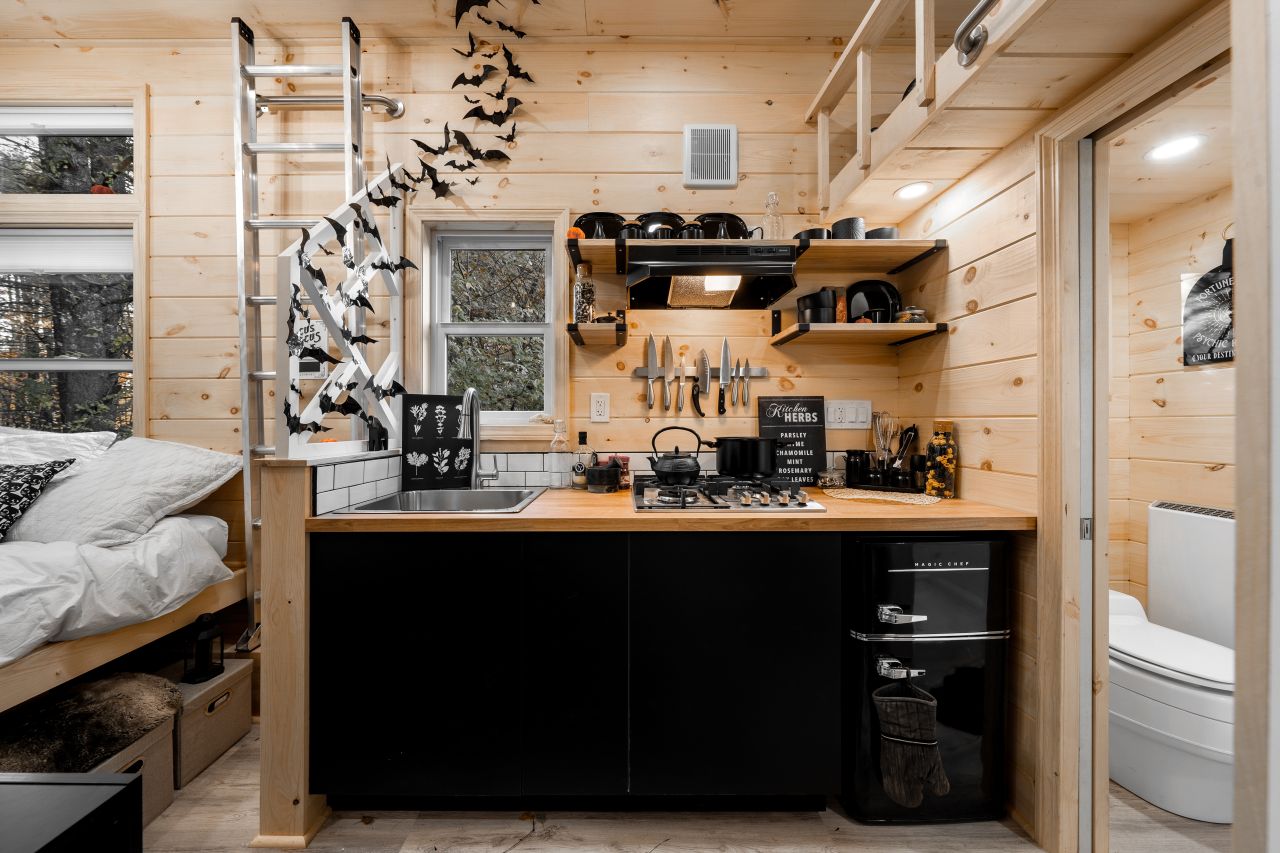 In addition to the spooky aspects, the kitchen is incredibly functional, with a breakfast bar that seats two people. There is also a small closet area beside the kitchen, complete with a witchy broom.
The main bedroom is adjacent and has a double bed with storage underneath that can accommodate two people. To add sinister sensations to the residence, the designers adorned the bedroom with black drapes.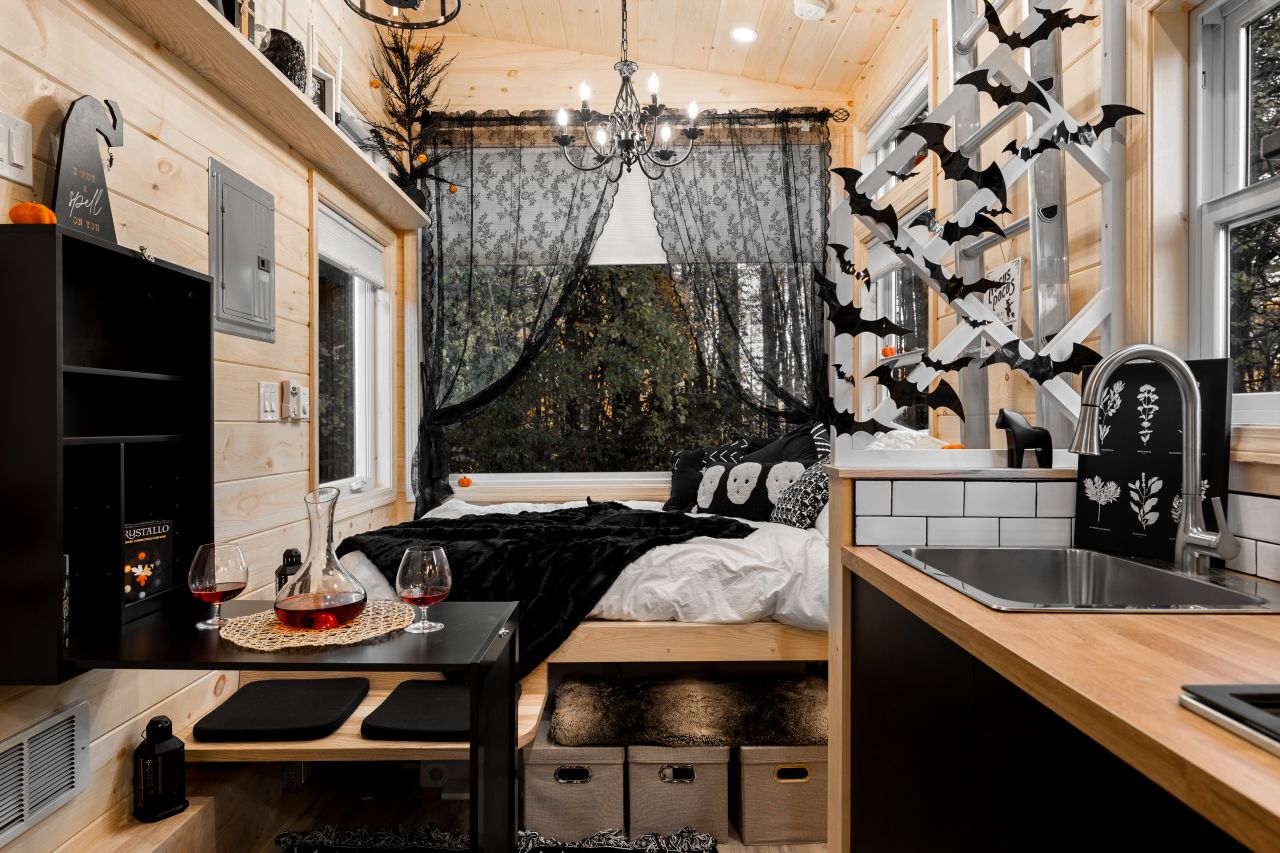 The bathroom in the tiny house has a shower, toilet, and sink. A bat-shaped mat has been laid in front of the sink. There is also a loft that may be used as either a supplementary bedroom or a living area.
The loft, which is accessible via a ladder, can also be utilized as a storage area for Halloween items. Backcountry Tiny Homes ornamented the spooky house with a little cage that hangs from the ceiling and spreads spooky atmosphere throughout.