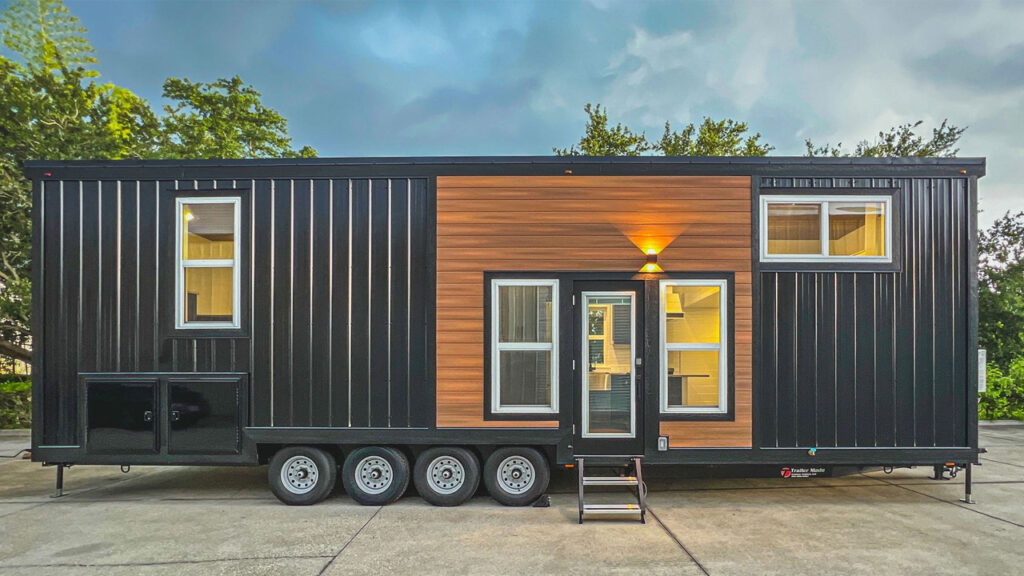 The larger the tiny house, the more expensive it will be. At least, such is the current trend in the tiny house sector. These micro houses are constantly becoming larger and more expensive, and a $190,000 Doodle tiny house with 440 square feet of living area is a prime example to back up the claim. The 36-foot-long micro house was designed by Movable Roots Tiny Homes and is built on a four-axle trailer.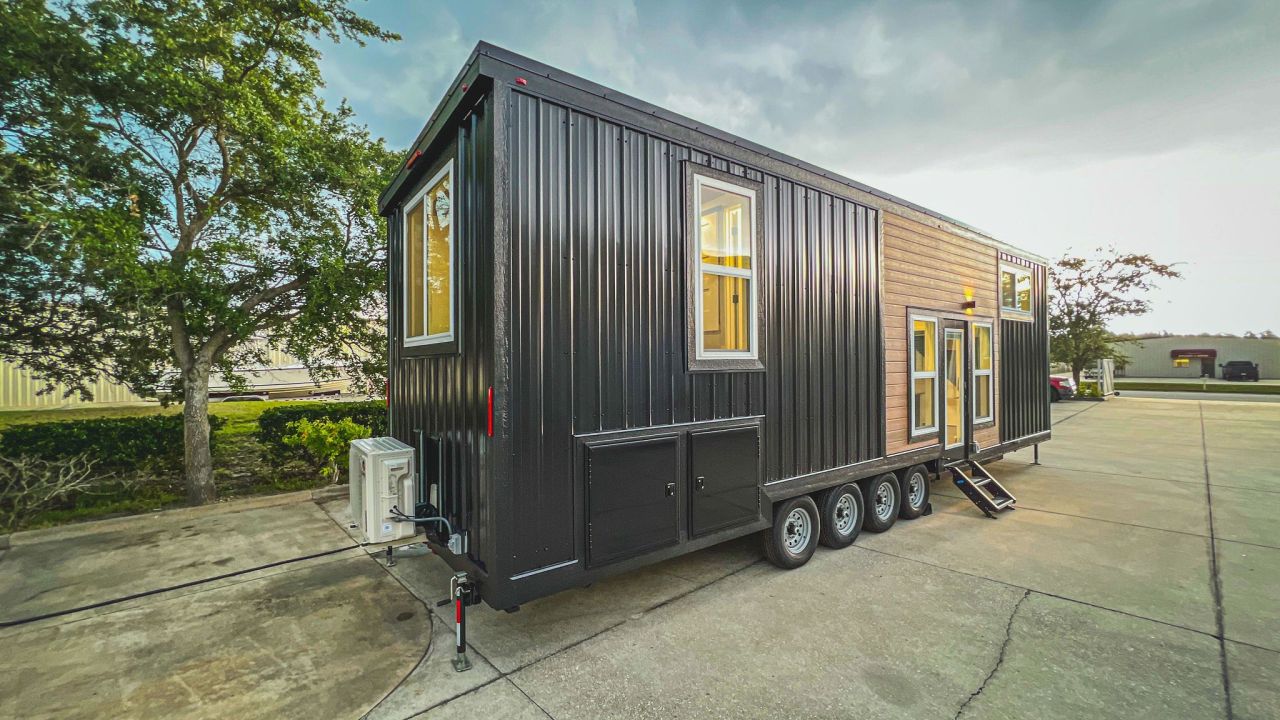 The compact house has a main-floor bedroom, gourmet kitchen, loft bedroom, and opulent bathroom. "This house was designed and built with our client's specific needs and desires in mind, as well as their beloved Goldendoodles (Murphy and Jordy) in mind." "These clients had already made the transition to tiny living in an RV but wanted something that felt more like a home and less like an RV after a few years," the business says.
As a result, Movable Roots created a home that had all of the necessities of a standard dwelling. A glass door welcomes you inside, and the first thing you see is a U-shaped kitchen. The kitchen has a large sink, a four-burner induction stove with a custom-built hood vent, an oven, and a full-size refrigerator. Not to mention the numerous drawers, cabinets, and cupboards for storing food, utensils, and other necessities.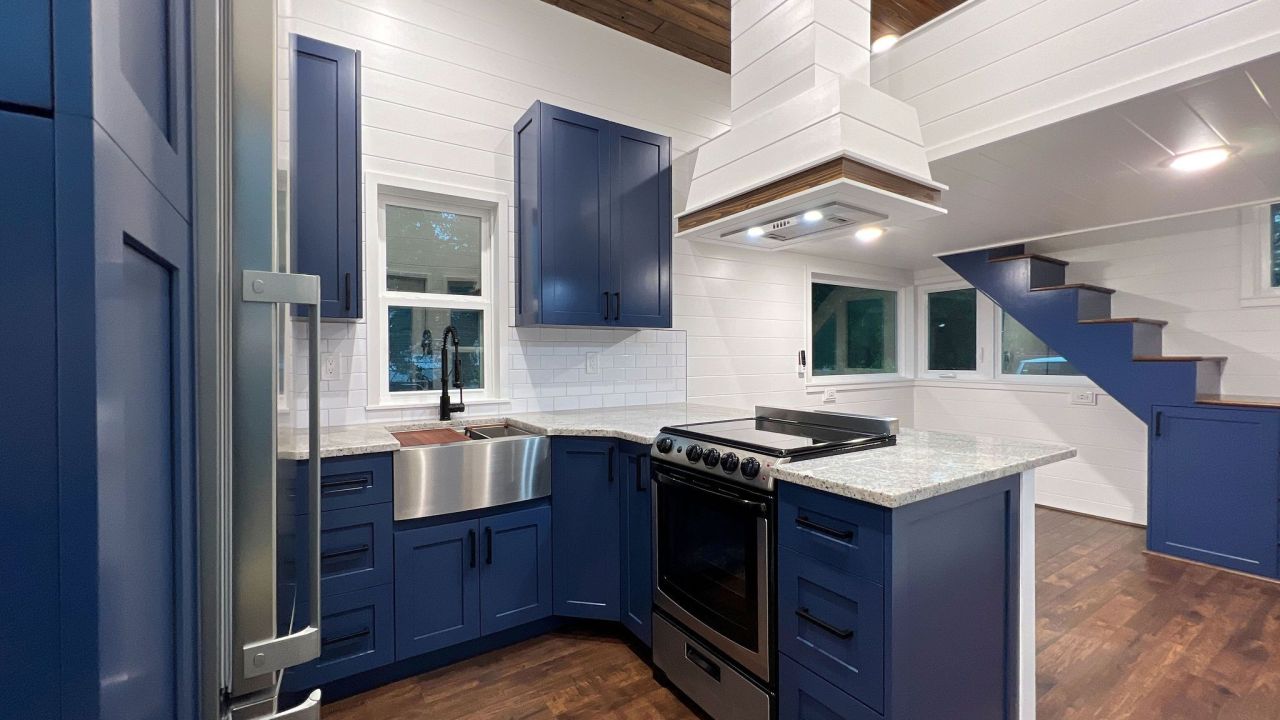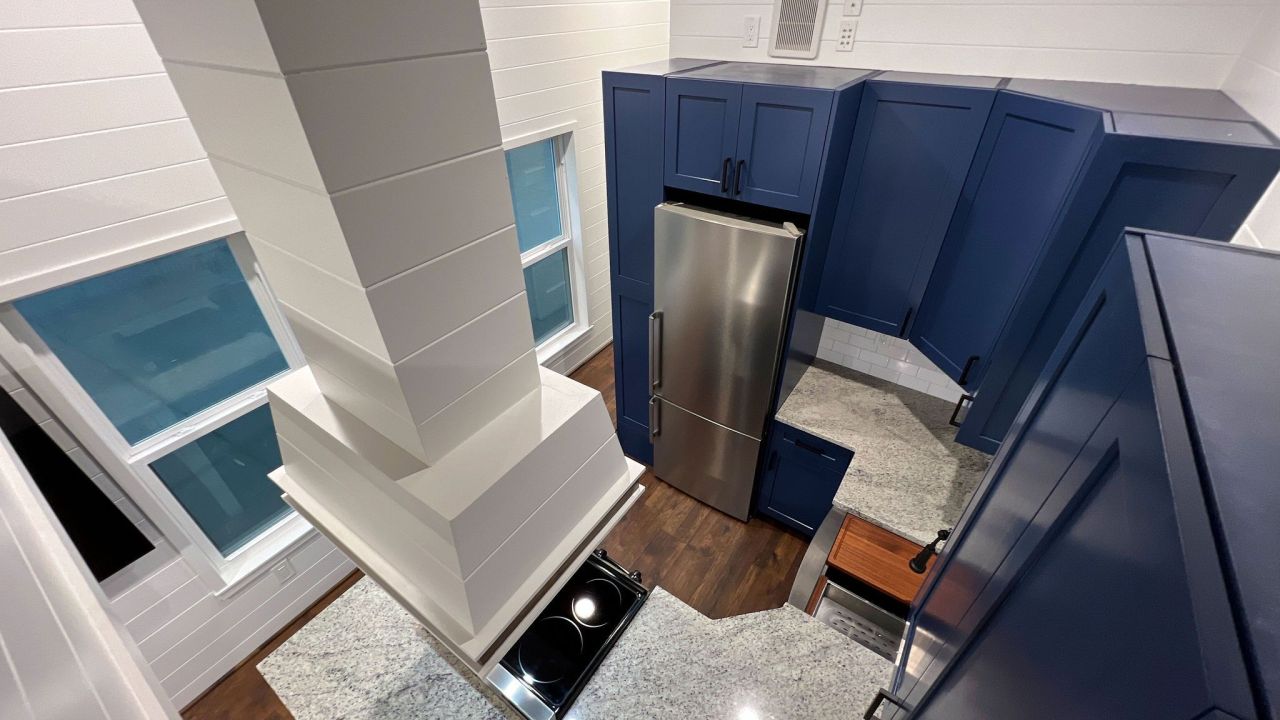 The living room of the house is adjacent to the kitchen. It can be outfitted with a sofa and table that face the 65-inch flat-screen TV that is installed on the wall. A storage-integrated staircase leads to the tiny house's loft in one corner of the main area. The loft sleeps two individuals comfortably thanks to its low-ceiling appearance.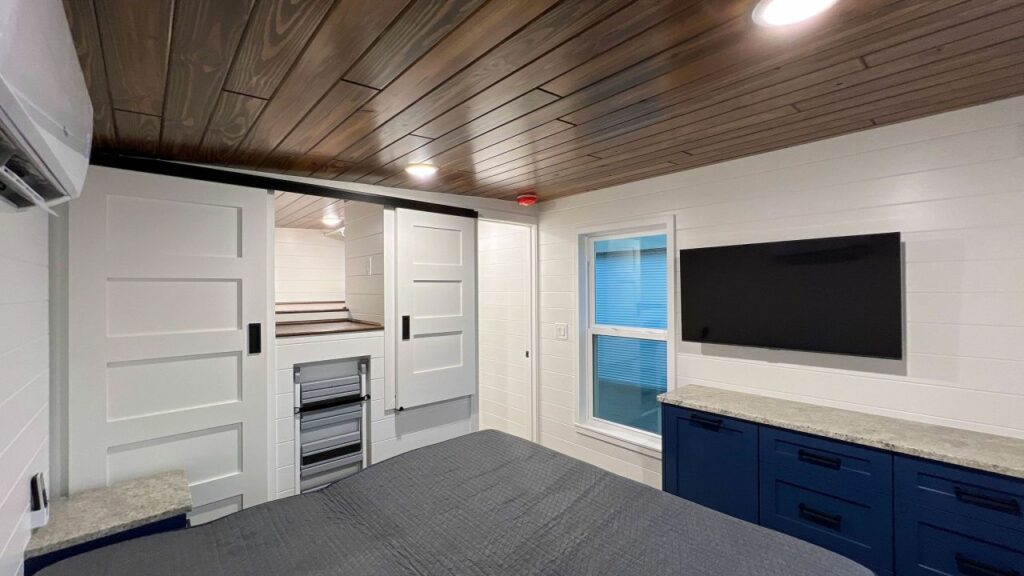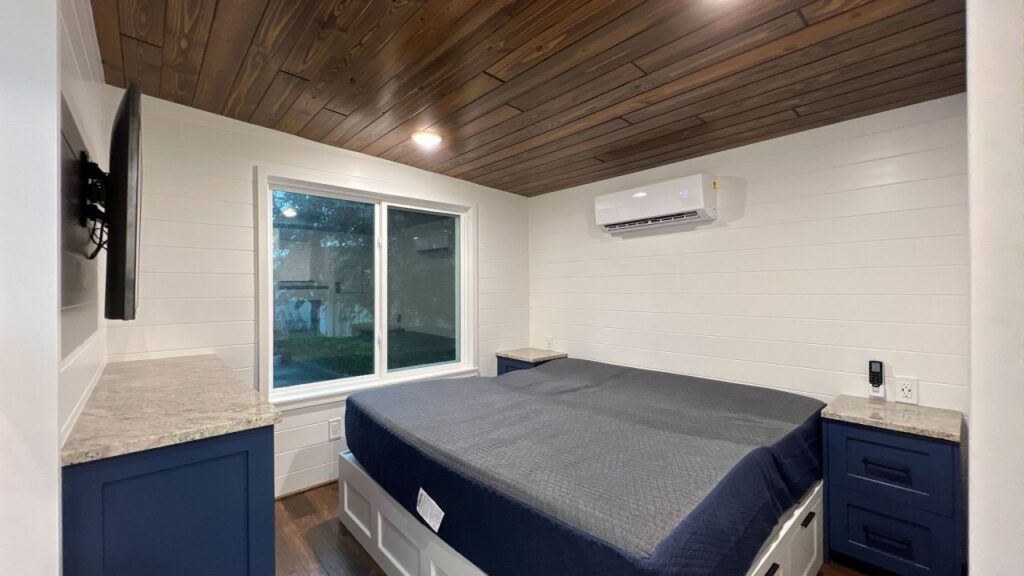 The little house also boasts a slightly elevated main-floor bedroom. This was done on purpose to accommodate some parking space beneath the bedroom, which also serves as a sleeping nook for the owner's dogs. "We raised the master bedroom floor to give the customer over 90 square feet of garage storage that is accessible from either side of the home's exterior," according to the business.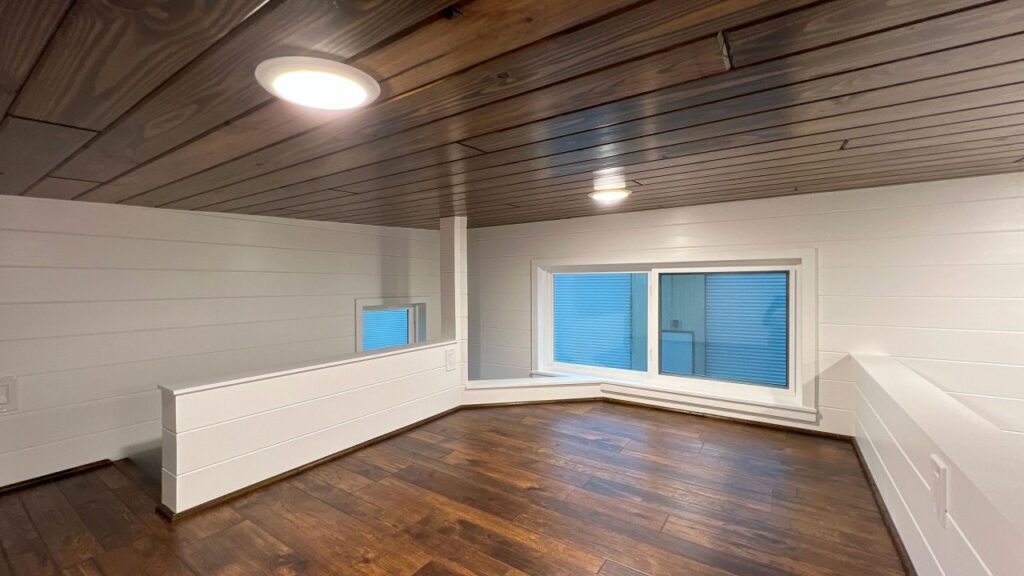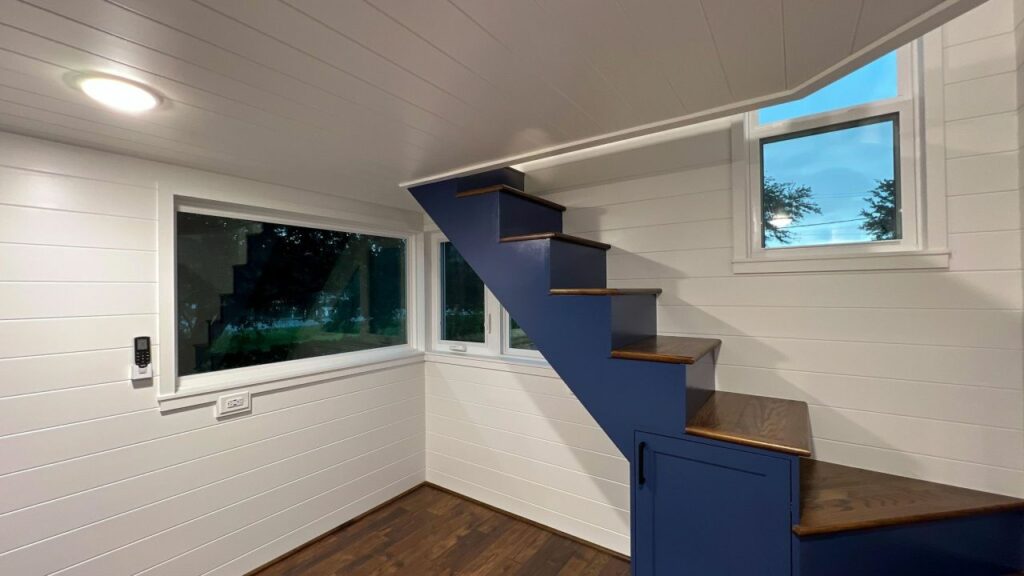 Returning to the Doodle tiny home bedroom, it has a king-size bed, a custom-made dresser, and matching nightstands. The bedroom additionally has two hanging closets accessible from the main floor, as well as additional storage space accessible through a handmade ladder positioned above the bathroom. The bathroom, which has a normal flush toilet and a Jacuzzi, is another opulent element of the residence. Then there's a stacked washer/dryer and a custom-built makeup and hair vanity.