We found it by a lucky accident on FB Marketplace while browsing for a new home. The [previous renter] needed someone to take over his lease ASAP, as he was leaving the country. We loved that it was in such a central and convenient location with plenty of new and historical eateries right below us and that the streets are always alive with plenty of cuisines to choose from. There was also potential within the existing structure to convert the space into a duplex loft, which was a dream we always had of creating. I always wanted to live in a two-story loft.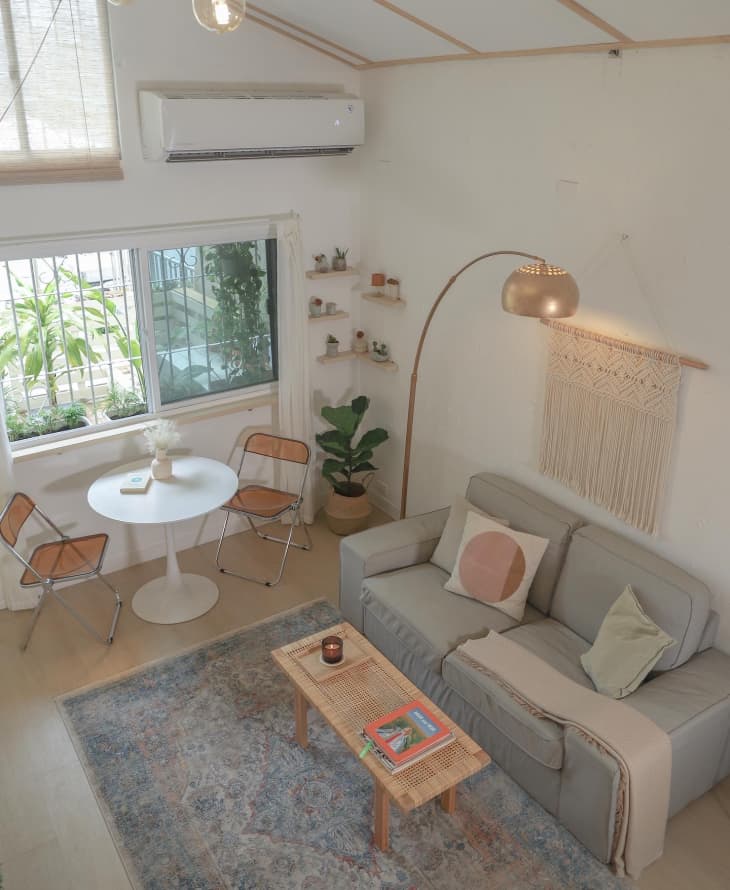 For our work setup, since we're always busy on our laptops, we love that there is a big balcony that allows us to start our days peacefully and easily enjoy some fresh air and stretches. There are some days where we end up spending the whole day on our balcony, bringing our laptops out as the weather is so lovely and the fresh breeze /air is so refreshing and enjoyable while working that the time passes by very quickly and before you know it the moon and stars are shining above you. We also tend to enjoy having our meals outside as it's such a peaceful space to do just about everything in. We also love cooking up new recipes in our kitchen and lounging about on our comfy sofa on our slower paced days when we have time to avoid takeout. Time really does pass by very quickly as there is such character and vibrancy in each corner and we love staying home all day long when we can as it's truly our recharging station away from the hustle and bustle of everyday life.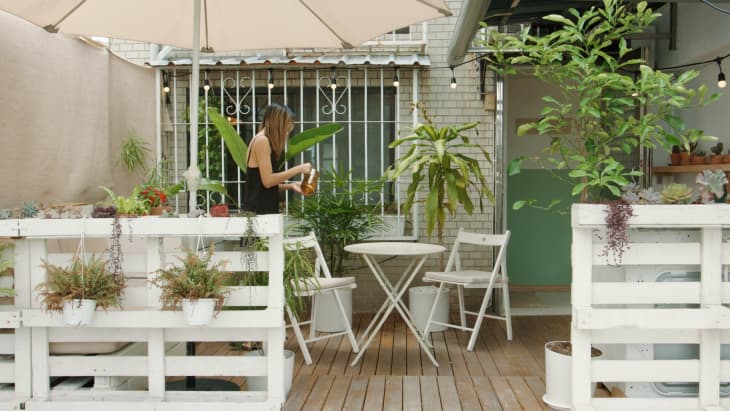 The overall style is calm, minimalist, and dreamy with a touch of quirky playfulness. We designed the apartment to focus on slow living in the fast city. Light, warm, soft, flowing, and airy were the key elements to creating a soothing, comfortable sanctuary that helps us melt the stresses after a long day out in the city.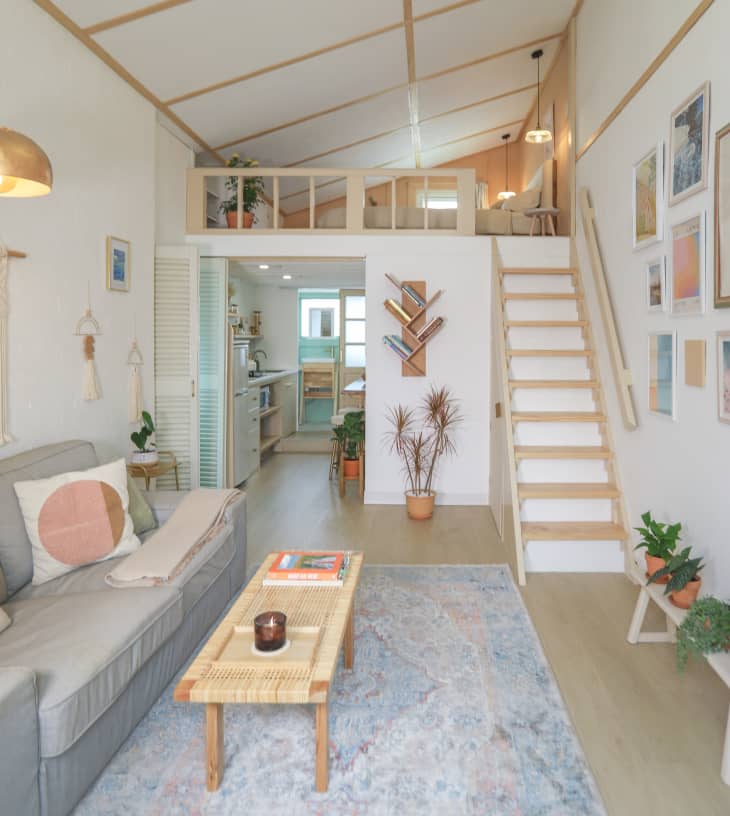 We had two major inspirations: play and nature! What drew us to doing a loft was the sense of a childlike layout, because in essence a loft is like a fancy bunk bed! Adult city life can be so serious and we know the answer to living a longer life is to play, create, and be joyful each day you are alive, and your home is the best place to ensure that this can happen. The house is filled with fun touches that give it its own unique personality — from the dreamy pastel colors to the quirky mid-century finishes and shapes, the vintage reclaimed sliding doors and lots of tactile, interactive items, like our fold-out Murphy working desk in the closet that we DIYed ourselves and the satin curtains and velvet cushions that we had sewn for us by local grandmas.
We also deeply love being outdoors, so living in the city we wanted to bring the calming touch of nature to our each and every day. From the theme of plants and green throughout punctuated with vibrant pops of other colors, to the distinctive canopy-like ceiling that reflects the streaming sunlight on sunny days, the jungle served as our key inspiration in crafting this home.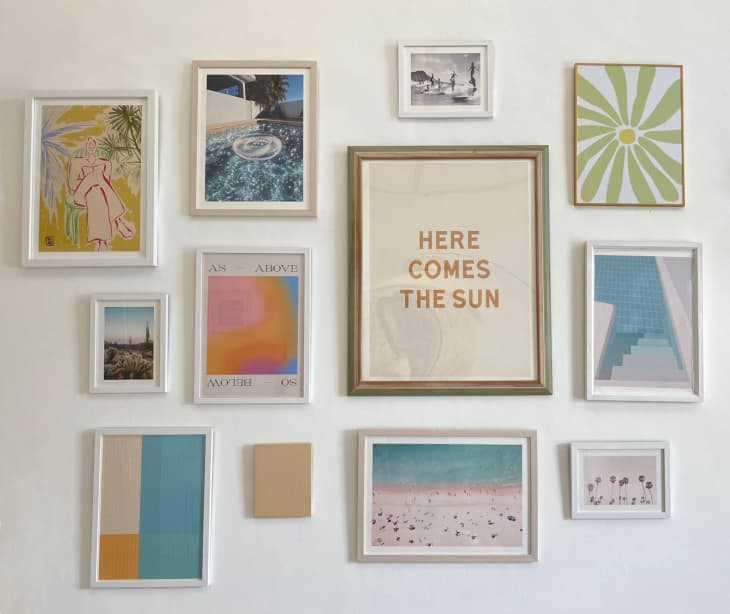 Our art gallery wall — Taipei weather gets gloomy and unbearable, sometimes raining for weeks on end. As an antidote to very real seasonal depression, we came up with the idea of an art gallery wall that would transport us into our favorite energizing memories. We love to spend time at the beach and naturally it became a theme about sunshine and sea. Every picture was carefully chosen as we spent a lot of effort being intentional about having the right kind of uplifting energy on the wall. Our signature art gallery wall symbolizes how decor is way more than just about aesthetics but also an opportunity to positively affect your psyche.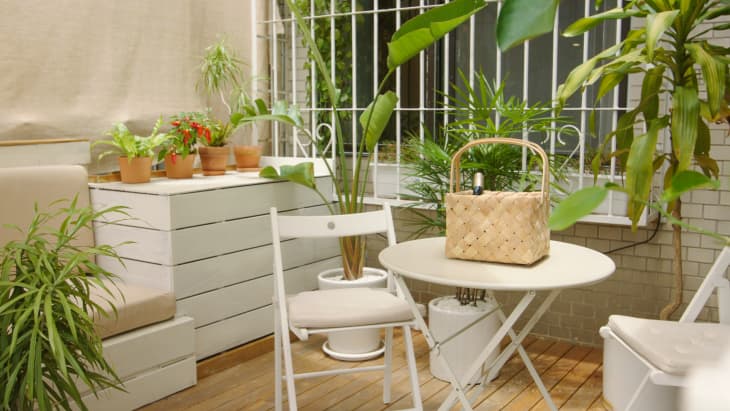 The balcony — we hand built the balcony out of pinewood and now this is our favorite place to relax — it's the most peaceful spot in the city! With the comfy built-in seating nook, dining area, and lots of exotic plants, you can spend all day here: roll out the mat for a morning yoga session, bask in the warm sun with a tasty brunch, or enjoy dinner under the moonlight.
Lots of challenges! But mainly budget and lack of experience! We were naïve and thought this would be a quick project, but we ended up having to redo the whole apartment from head to toe: floors, ceilings, doors, kitchen, bathroom, and all the decor! That meant we were way off with our initial budget and decided we'd have to DIY everything if we were to bring our vision to life.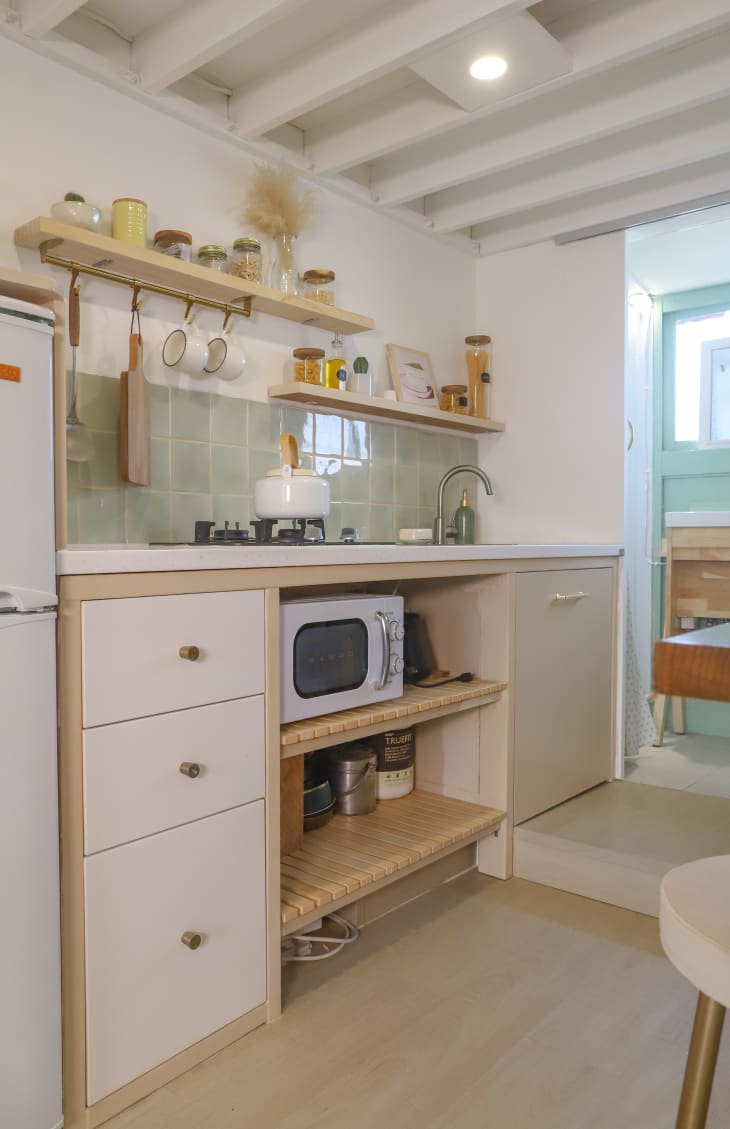 This was our first DIY so we had to learn everything as we went. YouTube was our best friend! We couldn't afford to buy items directly from the store (e.g. kitchens installations, cupboards, etc.) so we had to get creative. We took advantage of free, second-hand, and recycled materials/objects as much as possible — finding many of our decor items and appliances on local marketplaces and in thrift shops at fractions of the price of new ones.
We also decided to fully own the fact that everything was hacked together! Of the many places we have lived (Airbnbs, etc.), we always felt most at home in the ones that were slightly imperfect but full of personality. The quirky ones with a hand-finished touch, where you don't have to worry so much, you can just let go and just be yourself. That's what a home should be. We felt happier living in these places than many lavish, perfectly-finished spaces that feel unwelcoming. We used this to our advantage with Jungle Loft and were able to just focus on creating something interesting and different vs comparing and worrying!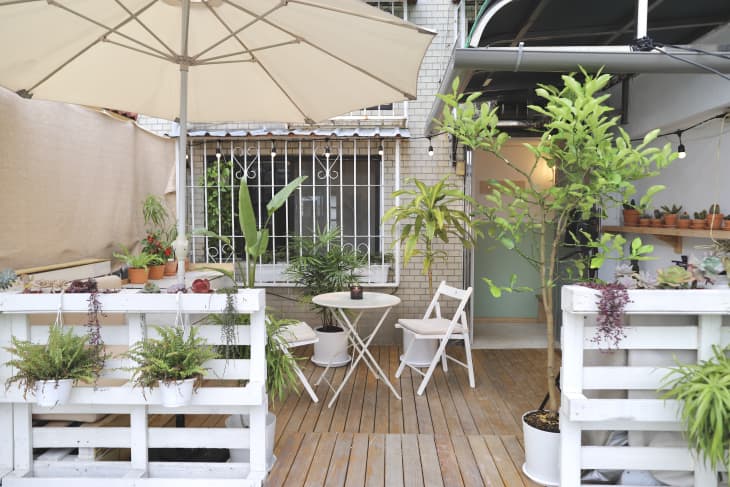 The whole house haha, but if we have to choose it would be the balcony. The flooring we built from raw pinewood planks while the fence and loveseat were from recycled shipping crates. The cushions we found at a cheap thrift shop and were reupholstered by local grandmas.
The sliding bathroom doors are pretty cool as they are from a different era and help to preserve some heritage of the city but in a new, funky way. We reclaimed them as they were going to be thrown in the garbage, repainted them, and then added smooth gold handles for a stylish touch.
The bed headboard is a more classic DIY project. The original bed is a wooden IKEA frame that is super uncomfortable to sit up against. We made a cream velvet headboard out of foam, fabric, and MDF board and fixed it to the bed frame, making the whole bedroom feel more cozy, comfy, and luxurious.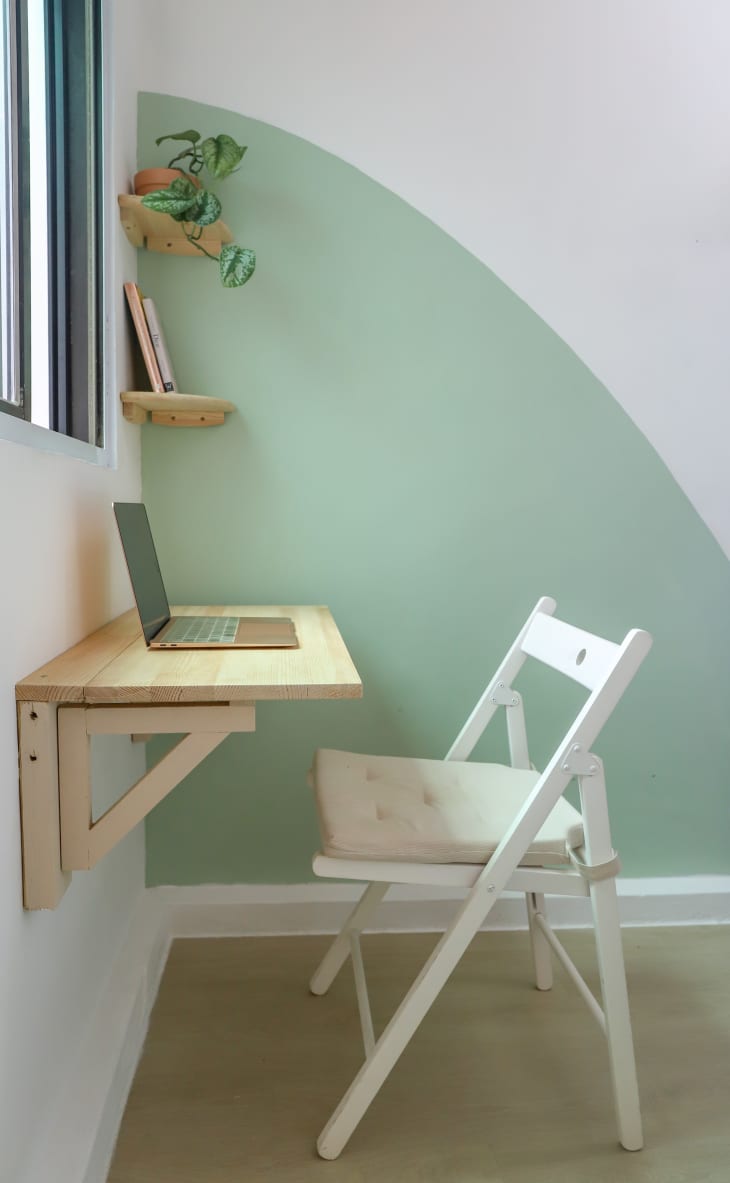 The Murphy desk in the closet is also quite fun to use as it faces a window — we followed a YouTube tutorial and now have a functional foldout work desk, meaning the walk-in closet now doubles up as a private work area.
Our paints were also all custom made — we didn't like what we found in the shops, so we mixed them ourselves, experimenting until we found the right combinations. The beige used on the stairs, kitchen, and other elements around the house for instance is our own blend that we call "milk tea," a fun ode to Taiwanese food scene. The greens throughout were to mimic the shades in the jungle.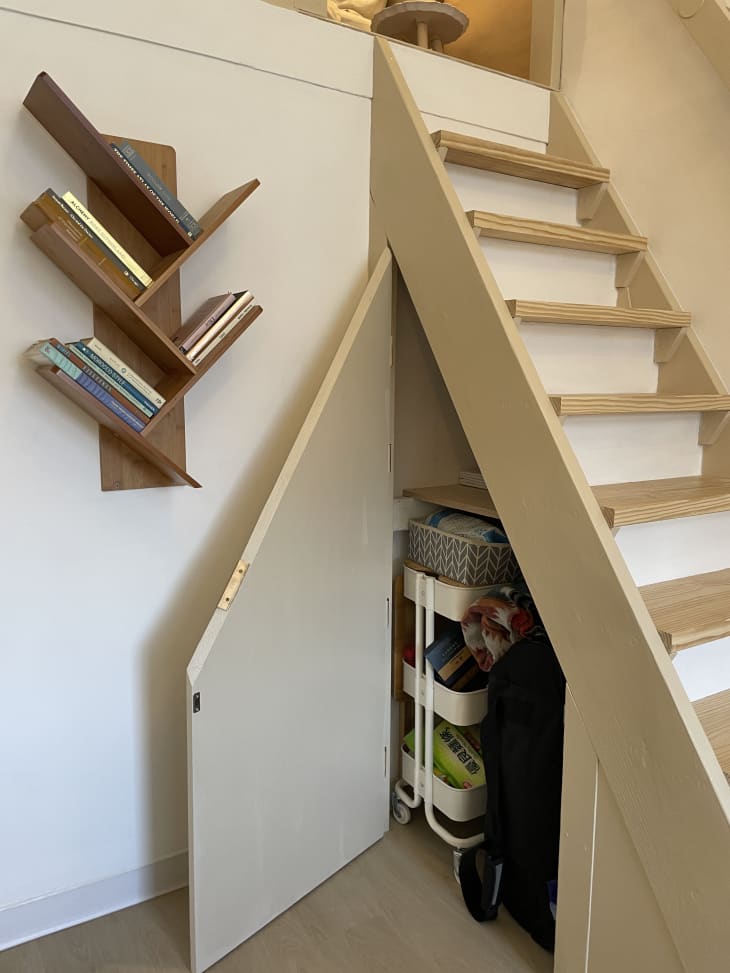 Is there something unique about your home or the way you use it? Closet as home office, yes haha. The entrance to our house is also our balcony space, which is unique. And our stairs have hidden storage behind a triangular door.
What are your favorite products you have bought for your home and why? We love the tulip table and translucent orange retro chair set. It gives the whole place a cool modern, spacey vibe that helps to offset all of the hand-made elements.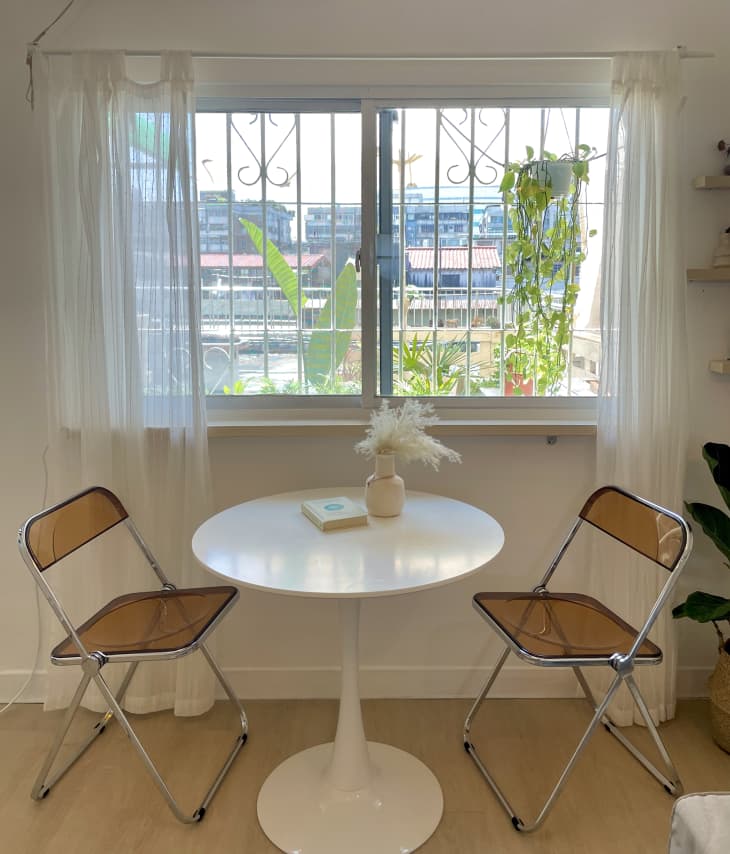 On the back wall is one of our favorite pieces of furniture in the house — the V-shaped iconic shaped wall-mounted bookshelf. Originally it was an awkward standing bookshelf, so we removed the legs and mounted it to the wall. Its interesting shape acts as a focal point for the room, mimicking that of a growing plant and helping to further connect the room to our jungle theme.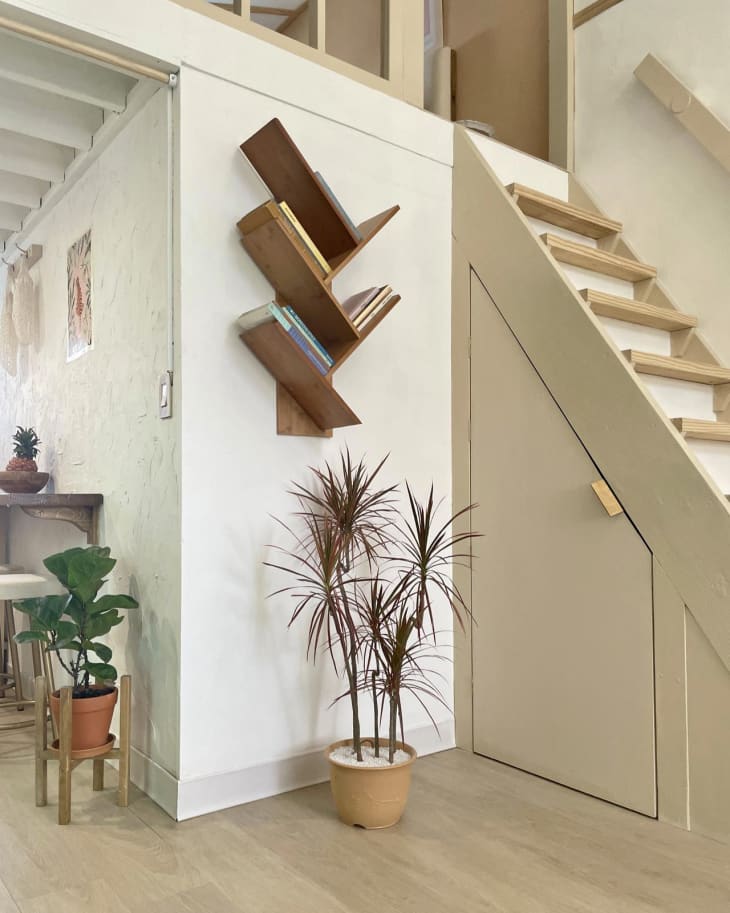 We also love the rug that we had imported and was handmade from Turkey. The space is small so we intentionally bought an oversized rug to help increase the visual space to the eye, plus it's very nice and soft on our feet to walk on.
Please describe any helpful, inspiring, brilliant, or just plain useful small space maximizing and/or organizing tips you have: A key thing for us was how to make the space feel open and flowing without the cliché cramped feel of a tiny home. For this we used subtle ways to divide areas while still letting light through for a sense of flow e.g. using slatted dividers rather than solid panels in the kitchen, glass bathroom doors rather than regular ones, and open fencing in the loft rather than solid panels.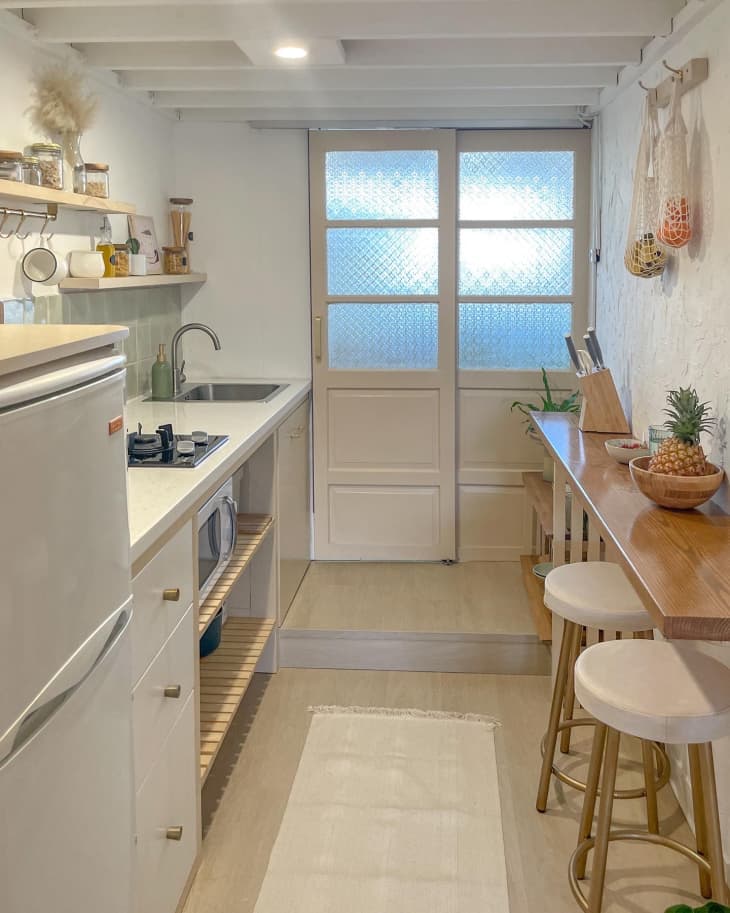 The other side of the coin is that living in a small space for too long can get monotonous, so we wanted to give each area of the house its own personality and energy to keep you feeling vibrant! For this, we used elements like color blocking, wall decor and plants, and took advantage of lightweight options such as sliding doors and curtains to allow the space to be easily partitioned for privacy as needed.
In terms of space sizing, foldable furniture is great as it can be moved around to create more space at will and sliding doors/curtain in general beats a classic door.
Does your home reflect your home country/city in any way? Yes! Our "milk tea" paint is an ode to Taiwan's food culture. Also, I used to live in New York and LA. The whole style in many ways is inspired by the quirky culture of Brooklyn and Venice Beach's energies — from the pastel dreamy colors throughout the house to the mid-century style finishes and shapes, and the retro beach theme captured on the art gallery wall.