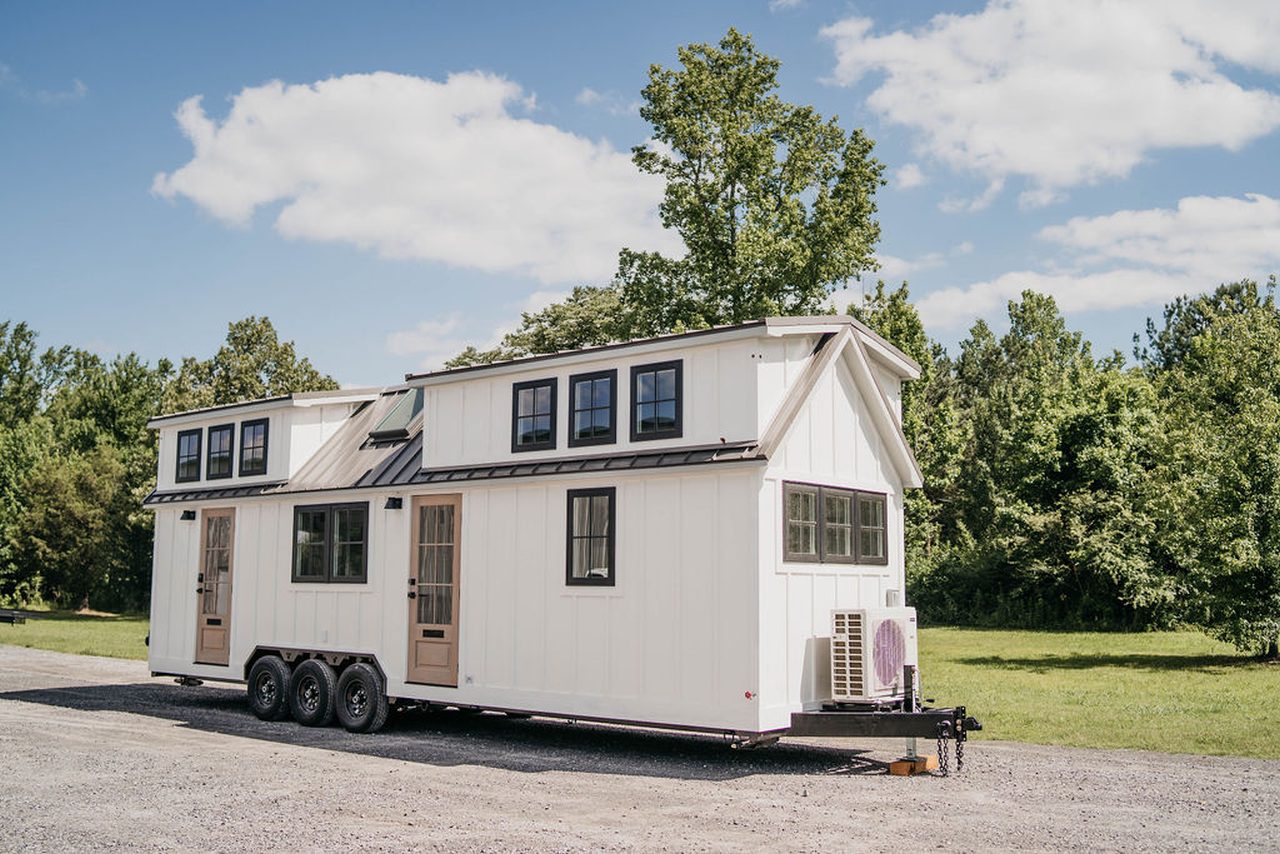 Timbercraft Tiny Homes, situated in Alabama, is recognized for its spacious tiny houses on wheels with high ceilings and a plethora of windows. The Ridgewood little house is another of the builder's mobile homes. The 28-foot-long tiny house has two entrances, an entertainment center, a ground-floor bedroom, a gourmet kitchen, a full bathroom, and a loft bedroom.
The Ridgewood tiny house is built on a bumper pull triple-axle trailer and features a soothing neutral color scheme on the inside and out. The tiny house has two entrances: one leads to the pleasant living room and the other to the bathroom, which is convenient because you won't track mud or filth throughout the house.
Thanks to two skylights over the kitchen, a dozen windows, and two glass doors, the interior of this stunning home is well-lit and well-ventilated. The highlight, however, is the entertainment center constructed into the living room's end wall. With two drawers and a TV lift mechanism, the Ridgewood invites you to binge-watch your favorite horror flicks as Halloween approaches.
A gourmet kitchen is located beyond the living area and includes a four-burner range, oven, sink, fridge, worktops, and ample storage space. A fold-down countertop expands your workstation, allowing you to prepare meals without feeling crowded.
A galley leads to the bathroom and the ground-floor bedroom, both of which, like the rest of the house, are well-lit by large windows. A loft bedroom is accessed from above by a standard ladder. A raised platform bed is flanked by at least six windows in the loft.
According to Timbercraft's design philosophy, the bathroom should have a shower or tub, a standard flush toilet, and a vanity sink. The builder has not specified whether or not there will be a washer/dryer unit connected.
The Ridgewood tiny house can be customized with solar panels and a dual-loft plan if the buyer so desires.
Contact the manufacturer for more information about the design and pricing of this tiny house type.