Want Halloween makeup that you can create yourself at home? Then you need to check out our 23 creative DIY Halloween makeup ideas. There are designs for every level whether your new with makeup or are a pro. We have ideas for scary costumes, cute costumes and more. Take a look to find your favourite.
Thank you for reading this post, don't forget to share this article!
1. MISSING EYES MAKEUP
Our first makeup pick creates the illusion that her eyeballs are missing. This is a very scary technique that will look awesome for any party. You could add your own ideas to such as fake blood. The missing eyes were created with BH Cosmetics Take Me to Brazil palette, Sleek Makeup Solstice Highlight palette and the Anastasia Beverly Hills Powder Contour.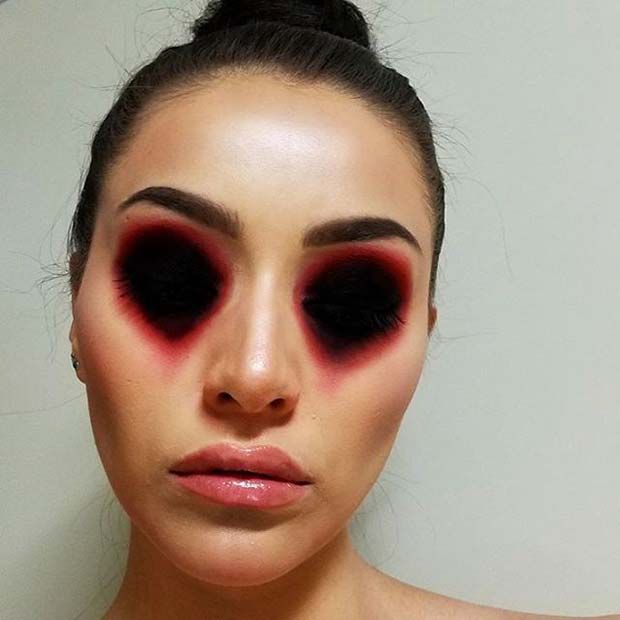 2. CRYSTAL SKULL DESIGN
If you are looking for something creative and bold, then our next pick is for you. The next idea is a crystal skeleton makeup design. Makeup like this will take a lot of effort and time but it will be worth it. You could recreate this with any gems and in any color. Skeleton makeup like this will be a hit at any party.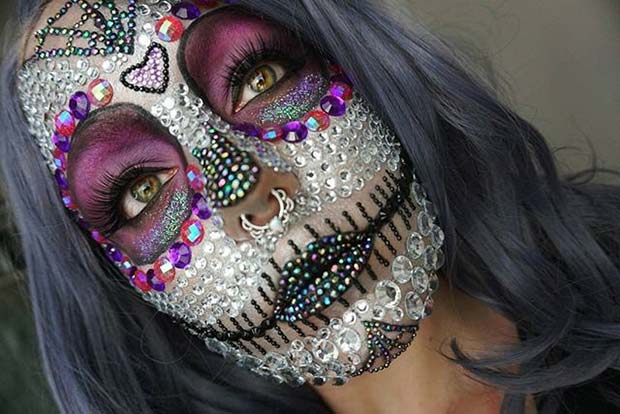 3. VENTRILOQUIST DUMMY MAKEUP
Ventriloquist dummies are very creepy, making it a great costume choice for Halloween. Our next pick shows how eerie dummy makeup can look. She has created a laughing mouth on her chin which gives the illusion that her mouth is actually a dummy mouth. You can find many tutorials online for makeup like this.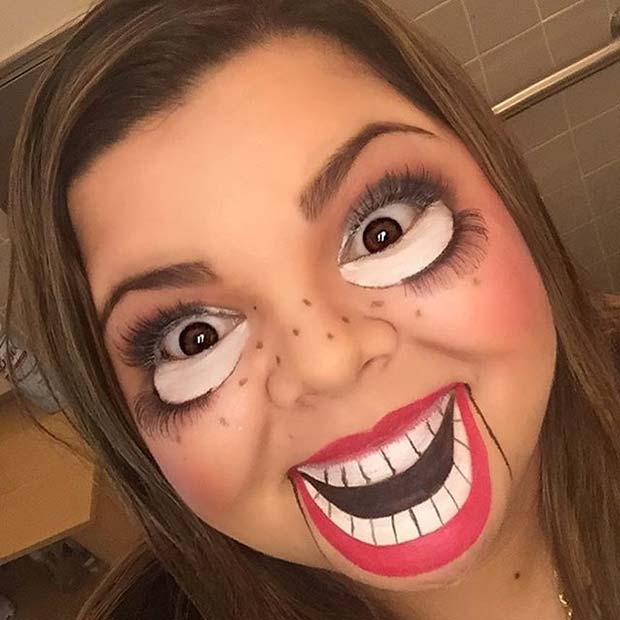 5. CREATIVE UNICORN MAKEUP
Unicorns are a popular costume choice for Halloween this year. There are many unicorn designs out there, this one is creative and unique. We love the colors used and think the horn looks mystical. You could recreate something like this or you could buy a unicorn horn headband. Just make sure you go all out on the makeup.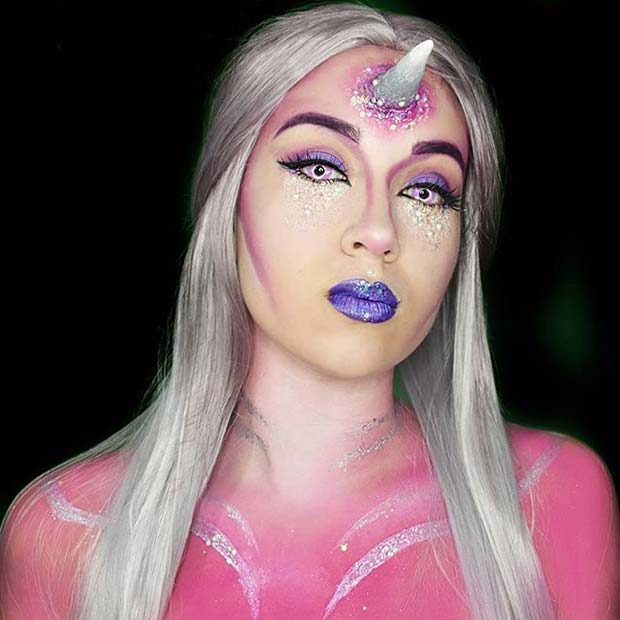 6. DARK WITCH MAKEUP
Witch costumes are worn by many year after year. So, why not create a witch makeup look that is creative and unique. Ditch the green makeup and long nose and replace it with dark makeup like this. The makeup look is glam and scary. The black veined lines look spooky. We love this different Halloween makeup idea.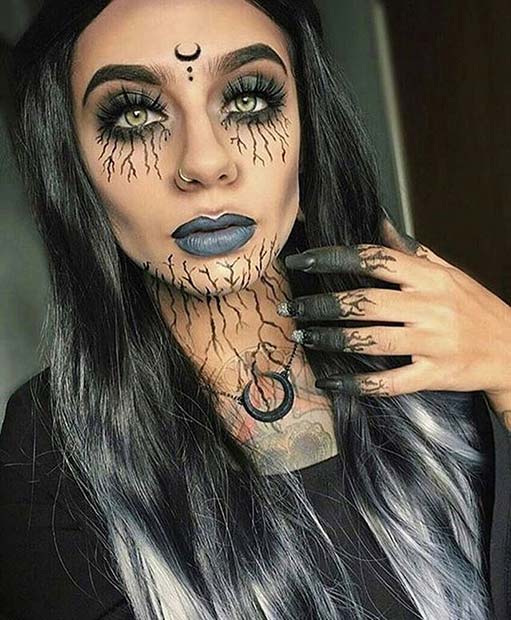 7. MYSTICAL MERMAID MAKEUP
Another mystical and magical makeup idea is the mermaid. Mermaids are a great choice for Halloween. You could recreate your mermaid makeup in any color. To easily create the scale look at home you can buy a stencil. This will give you realistic mermaid scales.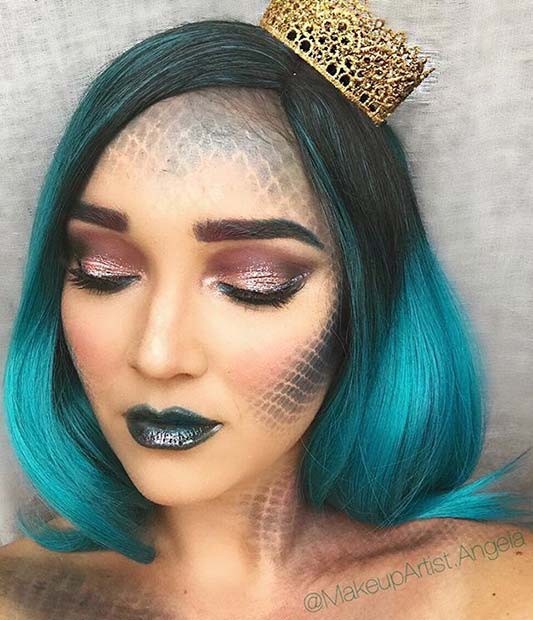 8. CREEPY DOLL MAKEUP
Dolls are very creepy, making our next makeup idea perfect for Halloween. This doll makeup makes the eyes look big and the doll lips look eerie. We love the heart outline. The skin inside the line is lighter than her natural skin, which gives her a pale look. When her hair is down and the lighting is dark this will look like her actual face shape.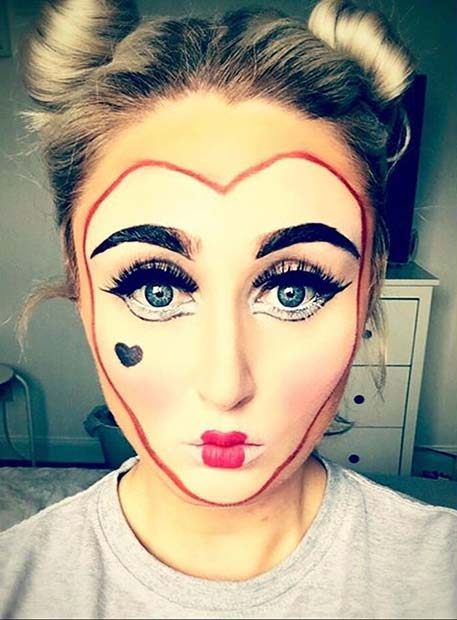 We hope you have been inspired by our creative DIY Halloween makeup ideas!